um, going through a transition period, bear with us, plz. They changed the charter, now they're gonna change you....


Four men came with a dream. To be part of the most cheerful, exciting and perfect newsgroup on the internet!*

Krazy Kramer.
Count Bazzu.
The Threatener.
Coordination Kid.

What seemed like an attempt to collect a group of people reluctant on using their real names turned out to be a homestead of love and support to the ways of Jar Jar Binks.

Oh, sure, our newsgroup may suggest death, but that was a mere accident. Y'see, the group was initially against the ways of the greatest gungan, however, with thanks to Wes Hutchings, the group was transformed to love and cherish the real meaning of the gungan.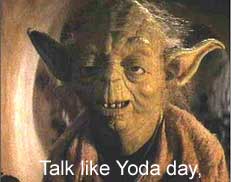 THINGS ON MY TO DO LIST FOR THIS SITE:
LINK TO THE MESA, SENATOR STORY, WHILE HOPING IT IMPLODES.
USING THE AFSJJBDDD CODE ON SOME MEANINGLESS PAGE.
LINKS PAGE LINKING TO THE SAGA PROJECTS, PLUS PERSONAL WEBSITES.
HIDE THE CONQUERED NGs SOMEWHERE.
GUNGANISER, MEBBE.
THE CHEER-UP COMMITTEE AND IT'S FORGOTTEN WAYS.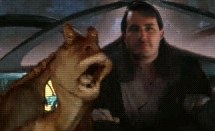 Wes Hutchings The Man who changed the Charter



Our Leader:



Comments, requests or questions?
E-MAIL KRAMER
E-MAIL NICK
E-MAIL BAZZU



AFSJJBDDD Code:
Agressive negotiations: Negotiations with a lightsaber.
Regressive negotiations: Spying.
Impressive negotiations: Killing people :o)
Progressive negotiations: Negotiations with Rush.
Defensive negotiations: Hiding.
Obsessive negotiations: Blackmailing.
Depressive negotiations: talking to alt.suicide.methods :o(




*ALTHOUGH WE CAN NOT OFFICIALLY PROVE THAT WE ARE THE MOST CHEERFUL, EXCITING AND PERFECT NEWSGROUP ON THE INTERNET, IT SEEMS QUITE A SAFE CLAIM, ESPECIALLY WHEN YOU SEE THE KIND OF GUYS ON ALT.SUICIDE.METHODS